"Out of the zeal of a few Catholic pioneers, together with the faith inherent in them
and coupled with the leadership of those stalwart Catholic leaders, ministers of Christ,
St. Martin's was born! Catholicity came to Otter River in the same manner
that it reached many parts of our country. An immigrant people seeking home and livelihood,
determined to practice the faith which was the heritage, endured many sacrifices
and tolerated extreme hardships to practice the religion which meant so much to them."
These words, which begin a history of St. Martin's written in 1951 on the occasion of its 100th anniversary, capture the spirit of this faith community in north central Massachusetts. Although one of the smallest Catholic churches in the area, St. Martin's is recognized as the "mother church" to 15 parishes in the northwestern part of the Diocese of Worcester.

A century after its construction, with the little church filled to overflowing at all Masses, two new parishes were created in Templeton: Holy Cross in East Templeton and St. Vincent de Paul in Baldwinville. Recently, with changing demographics and a decline in the number of available priests, realignments have been made, and St. Martin's Church has now become a mission of Holy Cross Parish. The people of St. Martin's warmly welcome all visitors and newcomers to our community, and invite you to make St. Martin's your spiritual home.





​
M

​

ass Schedule

Sunday Mass at St. Martin's - 9:15 am

Vigil Mass at Holy Cross Church, East Templeton - Saturday, 4:30 pm

Sunday Mass at Holy Cross Church, East Templeton - 7:45 am and 10:45 am

​

The weekly bulletin may be read here. Bulletins are in PDF format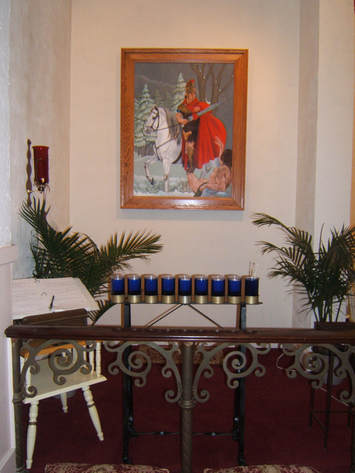 Annual Coat Drive Underway
Each fall, St. Martin's parish conducts a winter coat drive. With this charitable effort, we honor our patron saint, Martin of Tours, who served in the Roman army, and while doing so, shared his cloak with a poor man who lacked protection from the cold.

Donations of new or gently-used coats, along with hats, mittens and gloves, may be brought to the church on Sundays and left in the collection box in the vestibule. The coats will be brought to the Gardner CAC offices around November 11, the feast day of St. Martin.

Thank you to all who participate in this drive to help our neighbors in need.



---







​Father Patrick Consecrates the Refurbished Tabernacle
As part of our interior renovation project this year, a tabernacle that was used for many years prior to the Second Vatican Council was sent out for restoration. The tabernacle, which had been in storage for about 50 years, returned to St. Martin's in early August, and at the August 13 Mass, Father Patrick consecrated it.