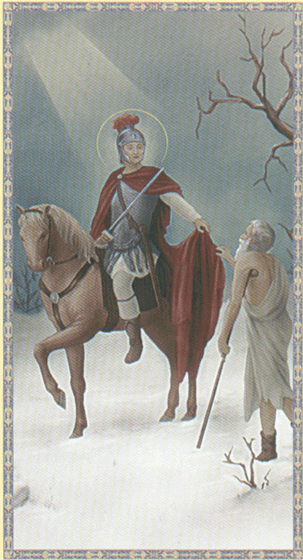 Saint Martin of Tours, born in Pannonia (modern-day Hungary) in 316 or 317, was named after Mars, the god of war, meaning `the brave, the courageous'. His father was a senior officer in the Roman army. His family moved to Pavia in Italy, and when he was 15, as the son of an officer, Martin had to join the army himself. He was stationed in Gaul and later became a monk in the region of Poitiers. While Martin was still a soldier he experienced the vision that became the most-repeated story about his life. At the gates of the city of Amiens with his soldiers, he met a scantily dressed beggar. Martin cut his own military cloak in half and shared it with the beggar. That night he dreamed that Jesus came to him and returned the half cloak Martin had shared with him. He heard Jesus say to the angels: "Here is Martin, the Roman soldier who is not baptised; he has clad me." When Martin woke his cloak was restored. The miraculous cloak was preserved as a relic, and entered the relic collection of the Merovingian kings of the Franks. The Latin word for "short cloak", cappella in Latin, was extended to the people charged with preserving the cloak of St. Martin, the cappellani or "chaplains" and from them was applied to the royal oratory that was not a regular church, a "chapel".

The dream had such an impact on Saint Martin that he was baptised the next day and became a Christian. He decided to leave the army and became a monk near the city of Tours.

Martin worked for the conversion of the populace to Christianity, making many preaching trips through western and cenral France. In the course of this work he became extremely popular, and in 371 he became bishop of Tours. However, he refused to live in the city and instead founded a monastery, where he lived a short distance outside the city walls.

He died at Candes, Tours, France, of natural causes, and was buried in the Cemetery of the Poor on November 11, 397.

The Feast Day of St. Martin of Tours is celebrated on November 11.


Prayers
PRAYER to ST. MARTIN

Blessed Saint, you were born under pagan ways
but since your childhood you were chosen
to be a prince of the Church and,
as Bishop of Tours, many souls were redeemed
and liberated from the satanic forces
through your prayers, austerities and blessings.

We humbly ask for your intercession
before Our Lord Jesus Christ
because we want to be worthy
of the Holy Spirit that leads us
from darkness to light into the eternal kingdom,
forever and ever. Amen.




PRAYER TO SAINT MARTIN OF TOURS

Saint Martin, you shared what you had
with the poor and needy.
You preached Christ's word and served his people.
Help us to be generous in sharing what we have.
Saint Martin, pray for us!